Welcome To The Home Of The
SLVFD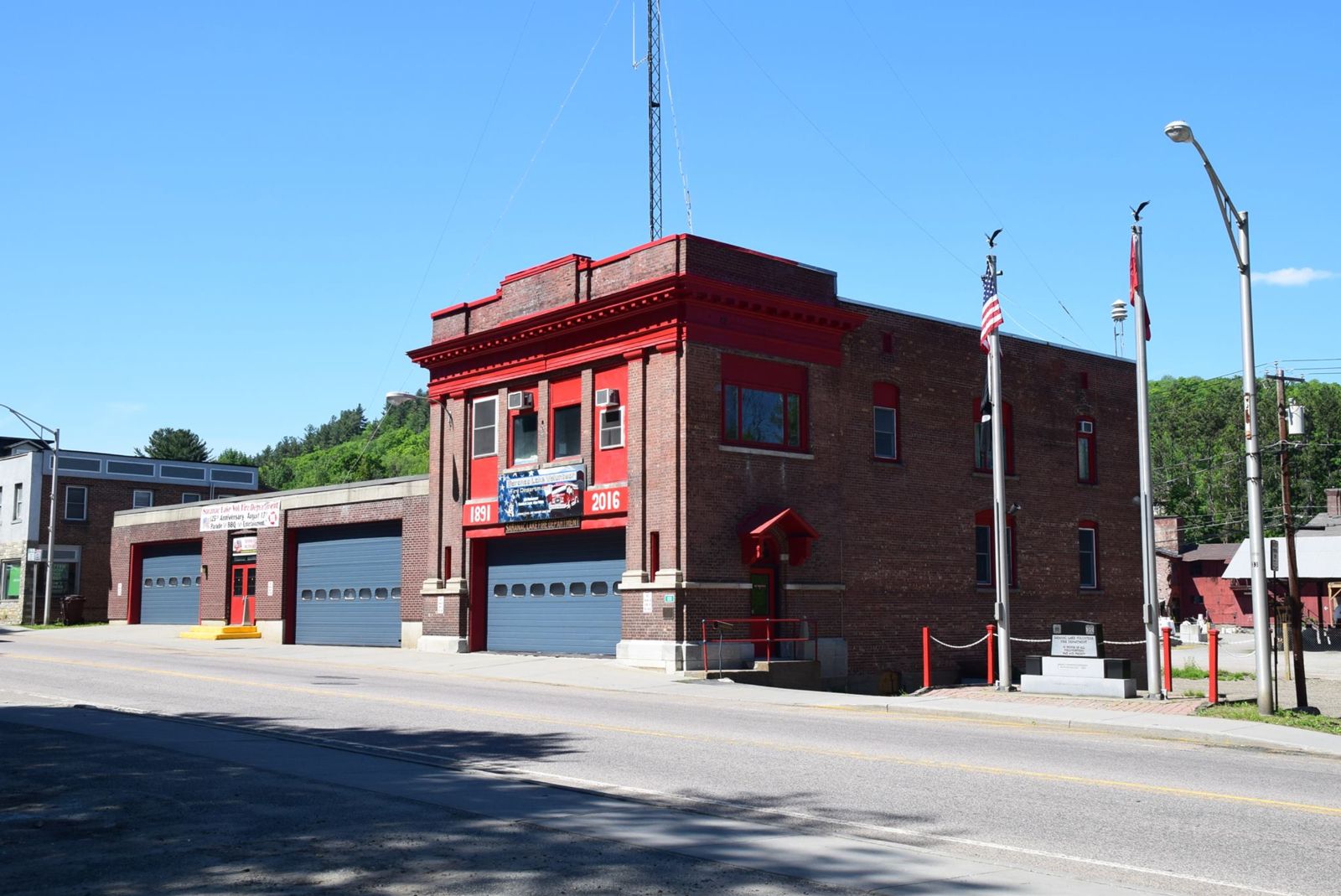 Click Here to see 2017-2018 Banquet Slide Show
Click Here To See Video 125 Years of Service
Click Here To See Recent SLVFD Incidents In The News
"Lightning strikes veterans club, sparking small fire"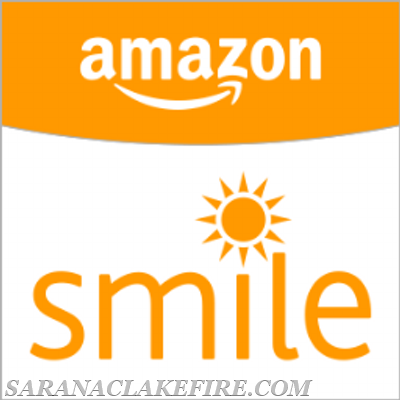 Click To Support Your SLVFD

SLVFD Trains with newly acquired rescue boat.

SLVFD News Room, September 23

The Saranac Lake Volunteer Fire Dept. Dive Team conducted training Sunday morning September 23 2018 on Lake Colby using their newly acquired 2008 18' Achillies inflatable rescue boat with a 65 hp Evenrude E-Tech Tiller motor.

The acquisition of the Achilles boat was made possible thanks to the help and generosity of Rich Morin's Pro Scuba Centers formally of Glens Falls. Rich is now President ... (Full Story & Photos)



SLVFD Members left to right: Brendan Keough, Ken McLaughlin, Mike Knapp, Don Jones, John Derby, Keegan Muldowney, and Bob Nadon.


SLVFD holds Annual Banquet

SLVFD News Room, June 17

On Friday 6/15/2018 the Saranac Lake Volunteer Fire Department held its annual awards banquet. The annual banquet is our time to celebrate the hard work and effort put forth by our members each year. It is also a time for our families to enjoy a night out and to hear the words thank you for the sacrifices they make each and every time the members are absent on calls, trainings and meetings.

The ... (Full Story & Photos)

SLVFD Hosts 6th Annual Golf Tournament

SLVFD, May 21

On May 12th, 2018 the Saranac Lake Volunteer Fire Department held its 6th Annual Golf Tournament fundraiser at the Saranac Inn Golf Club. 124 golfers from all around the area came out to enjoy a beautiful spring day and to show their support for the Fire Department. It was truly the best weather we have had for our Tournament to date. The fundraiser was a great success and it was nice to see ... (Full Story & Photos)



First Place Winners-Team Branch

SLVFD conducts Dive Team training

SLVFD, May 15

Recently your SLVFD dive team spent 2 evening sessions training at the North Country Community College Pool.

Training included the use of the "no-stealth" regulator and full face masks along with the use of the MK2 DCI communication intercom system, and new 911 buoyancy compensators .

Training with this new gear allows the divers to gain confidence with this equipment.

It is our goal to equip ... (Full Story & Photos)



A student actor is arrested for DWI following an accident which resulted in simulated serious injuries and a fatality of a fellow student.

SLVFD Participates in Pre-Prom Mock DWI Crash at Saranac Lake High School

SLVFD News Room, May 11

Prom and graduation are meant to be a time of celebration. Sometimes bad choices can have fatal consequences. Decisions such as drinking and driving, texting while driving, and speed can be deadly. That is the message we are hoping to relay today to students at the Saranac Lake High School.

Participants in todays drill included, The Saranac Lake Volunteer Fire Department, The Saranac Lake Police, ... (Full Story & Photos)


SLVFD Elects 127th Slate of Officers

SLVFD News Room, April 03

The SLVFD held its annual elections on April 3rd 2018 and have selected their 2018-2019 officers. There were no changes in position this year.

Congratulations to our officers who will continue to serve our community.

Chief, Brendan Keough

First Assistant Chief, Tim Donaldson

Second Assistant Chief, Andy McGill

Captain, Doug Peck

Lieutenant, Don Jones

Lieutenant, Keegan Muldowney

Director ... (Full Story & Photos)



THANK YOU!!! to our most generous community...

SLVFD News Room, November 26

Saranac Lake showed up big time!!! The holiday helpers toy drive was so successful it took 3 trucks to move all the presents from the fire house to North Star Industries where the "Holiday Helpers" will sort, organize and distribute the gifts. When you remove cots and equipment from rescue trucks, what is left is basically a big box truck. When we were done, your generous donations filled to overflowing ... (Full Story & Photos)



Community members showed up throughout the day with presents for Holiday Helpers.

Click Here to See Slide Show
Adirondack Daily Enterprise "Year of the Floods"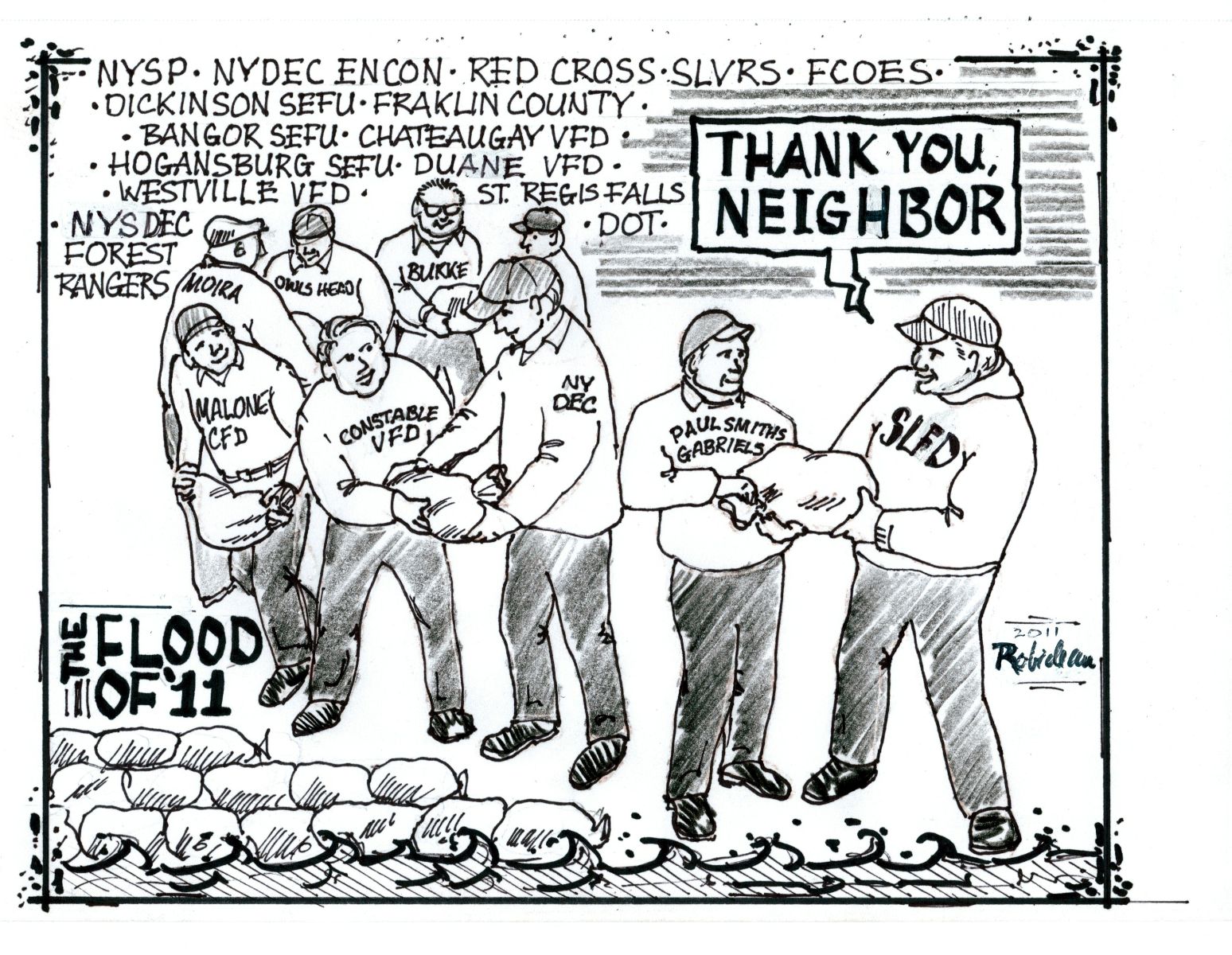 Contributed by Village of Saranac Lake Mayor Clyde Rabideau In Response to Major Flooding Incident April/May 2011
Click Here for Full Size Image
View NY State Daily Dispatch
Fire Service News From Throughout NY State